This article detailing the six-year journey to fundraise and build our new clubhouse was written by Gill Cox for the grand opening day. This has been edited by James Blay for use on our website, with photos provided by David Johnson and other sources.
Our old clubhouse, constructed in 1987
 
2009-2011
The journey started on a grim, wet, windy evening early in 2009 when eight of us were huddled round the Committee table trying to keep warm, miserably contemplating the four buckets catching water leaking through the roof. A ceiling panel had just fallen in and we were trying to work out the best way of telling Jon Warren that we would like him to get back onto the flat roof to mend the ripped felting for about the nine time in rapid succession. Looking back, if I had known what a long hard slog we would have I would never have volunteered myself to look into the possibility of building a new clubhouse!
But I did and we soon discovered that what seemed a huge amount of money in our slush fund wasn't going to get us very far at all – in fact we would need to raise four times the amount we had which seemed to us at the time an absolute impossibility – and we were told so on many, many occasions. We had no other option though – the building was not strong enough to be renovated and if we did nothing, there was the very real possibility no, probability, that HLTC would shut down – an option that seemed to us to be untenable after having a tennis club in situ for nearly 120 years.
So we formed a sub–committee and started the slog of identifying funding opportunities, while at the same time trying to identify a building company who would come up with solutions that we could afford. So started our somewhat rocky but ultimately successful relationship with Sports Clubhouses!
We wrote a total of 31 applications for funding. The breakthrough with Sport England came after application number 12, and I still remember taking the phone call from Greg Ward, the Grants Manager for the Inspired Facilities scheme just before Christmas 2011. They liked our vision and pledged us £50,000 for which we are truly grateful as this started the ball rolling (or so we thought).
2012-2013: Fundraising
In March 2012 we hosted an event to mark the presentation of the £50,000 from Sports England.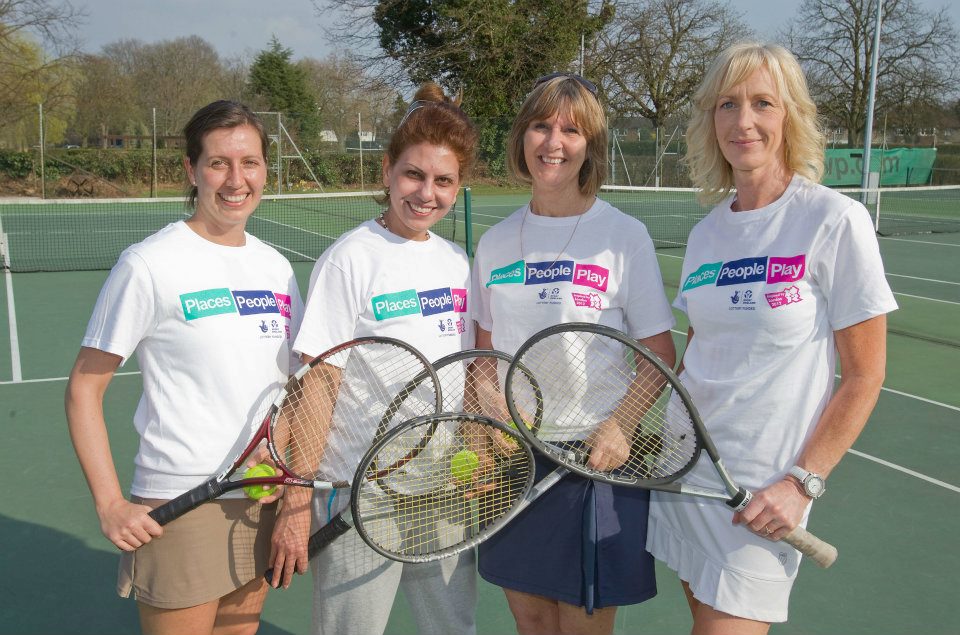 Then austerity and the recession hit, and all grant givers were being inundated by applications from organisations who were much needier than ourselves. We really were at the point of giving up then. What saved us from doing so were two more organisations, The Gatwick Airport Community Trust and John Bristow and Thomas Mason Trust bolstering up our funds by their kind donations, so thanks to these two organisations – their timely interventions really did make a difference!
So, we were getting nearer on the funds but still £90,000 short. It was at this time that we took the somewhat unconventional step of asking Sports Clubhouses if they would consider delivering a not-quite-finished clubhouse, meaning that we would undertake the last stages ourselves to save money. To be fair to them they took this in their stride and costed out a plan which took us to a deficit of £60,000 – an amount that just about looked achievable - but by this time there was the real possibility that Sport England would withdrawn their grant as we had not commenced the build within their timescales. A few begging letters and fraught telephone conversations later Sports England thankfully extended our timeframe.
This was the point at which we decided to see what response we would get from members, whether or not they could contribute by ways of loans and gifts to the club. Thankfully, many members stepped in and made their pledges – and here, a special thanks to our wonderful 'oldies', who have been extremely generous, citing their many years of pleasurable memories as members.
So, all we then had to do was find another £30,000 which I am happy to say was granted in the form of a ten-year interest free loan from the LTA, who came to the party just in the nick of time! It should be said that this level of loan was fairly exceptional, and we have our regional manager Alan Mezzetti to thank for his part in this. When Alan heard about the fire he championed our case and a third of this was converted to a grant.
2014: Construction
When Richard, the then Treasurer, said the immortal words 'I think we have a viable project' we could not really believe it – but HLTC Mark 4 was about to be born! And the rest, so they say, is history!
March
The demolition of the old clubhouse began in March 2014. We removed the old furniture, fixtures and fittings in preparation for the machinery to move in. Throughout the build we used a tent on our mini tennis court as a makeshift clubhouse - we thought it would be a temporary solution, but sadly it was more temporary than expected.
April
April saw the complete demolition of the clubhouse and preparation of the site for the new building's foundations.
May
The construction of the new clubhouse began in May. The building consisted of a series of panels that arrived on the back of a truck! By the end of the month the outer structure was nearly finished so attention turned to the inside.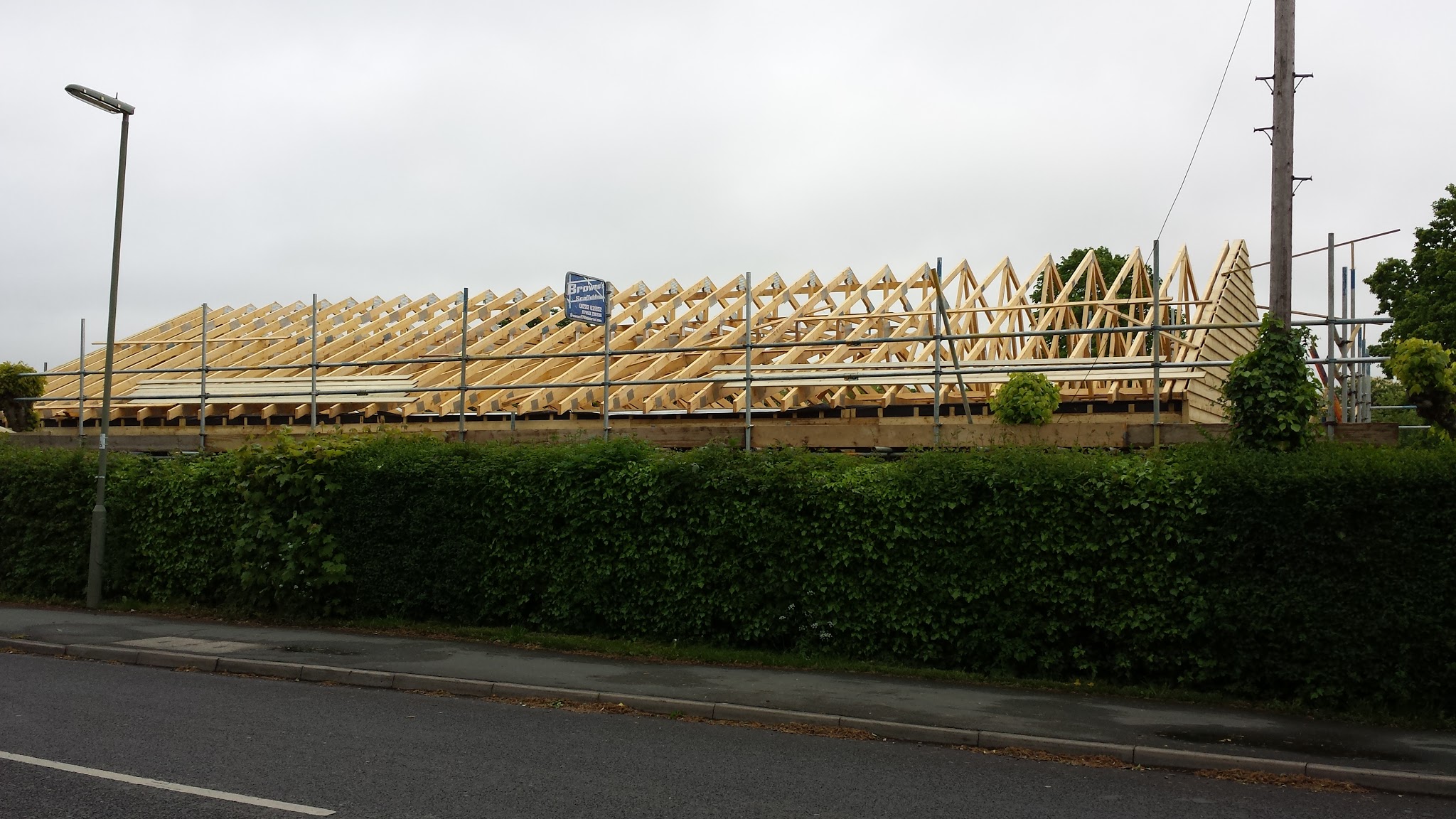 June 2014 Part 1
Significant steps forward were made in completing the inside of the clubhouse - the walls were lined with insulation and plastered. The build looked set to meet its completion date five weeks later, until one fateful, disastrous evening on Sunday 22nd June at 2:30am..
The Fire
Very early in the morning of Sunday 22nd June our clubhouse we set alight. By the time the fire brigade arrived and put the blaze out, the building was in ruins. The fire had caused the roof to cave in and destroy the work inside. The fire turned out to be the first in a series of arson attacks in Horley and Reigate, which received nationwide attention on BBC News and Crimewatch. To say we were all gutted is an understatement. But from disasters good things can happen and in our case it prompted a call from Kay Hammond to say that she would champion a grant application from Surrey County Council, to cover external works and the security system.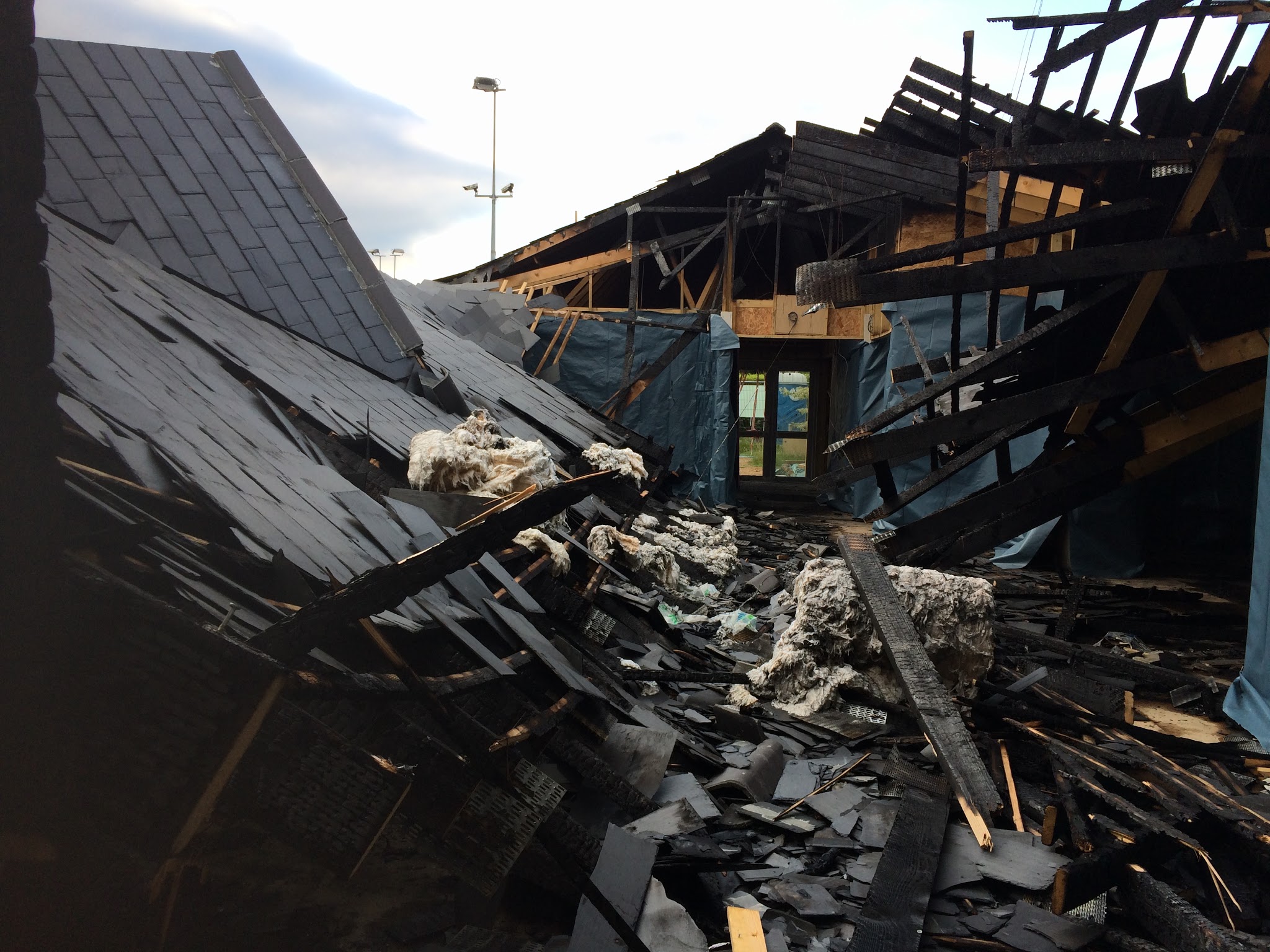 News Coverage: One Two Three Four Five Six
June Part 2
Building work was suspended while the relevant parties worked out who was responsible for the reconstruction and what was still useable from the first build.
July - December
The clubhouse was reconstructed, with only painting and decorating remaining by the turn of the year.
2015: Completion
January - April
When SC handed us the nearly completed building six months after we expected to get the keys, it was time for the members themselves to get involved. John Warren and Peter Horder were absolute stars for taking on the bulk of the painting, decorating and tiling – ably (and on occasions not so ably) assisted by armies of willing helpers. Geoff Blay did a brilliant job with the bar and Dave Sharratt with all the carpentry. In the meantime a group of the ladies hit the town and did a great job in soliciting the support of many local businesses who donated items either free or heavily discounted. So sincere thanks to Towers Watson, Mitchells, Homebase, Crawley Carpet Warehouse and all the other companies listed at the end of this article.
The (nearly) finished new clubhouse (March 2015)
 
Saturday 16th May - Grand Opening
We held a grand opening celebration on the 16th May, attended by local MP Sam Gyimah to cut the red ribbon.
Final Notes From Gill Cox
All this would not have happened if it wasn't for the support of three special people. Firstly, Jo Rosendale – who stepped in to take over as Captain when I started this mad idea. She has been an absolute rock throughout the whole project, calmly taking over when it all got too much for me. Secondly, Gail – whose endless optimism and sharing of the burden meant so much. And last but not least, Dave Johnson – Mr Clubhouse himself, who despite all the moaning and groaning was actually the one behind getting the project completed at all – and I can't emphasise how much work and time he has put in to making sure this day arrived at all.
We have many plans and ambitions for the future, not least to bring tennis into the community and run coaching sessions for schools, the disabled and the disadvantaged. We want to partnership with other sports – cycling, running clubs. Also to offer our facilities for other clubs and societies such as Bridge, Whist, Book Clubs, Yoga and keep fit classes.
HLTC is not just a tennis club. Life long friendships have been forged; dynasties of families have grown up on this site. Relationships, marriages, births and sadly deaths have bought us all together. The club is a source of companionship for many, and our journey over the past six years has shown what can be achieved by pulling together and supporting each other. We hope our journey over the next six years will be somewhat easier and with members help we know we can grow this little club into something really special.
Special Thanks to Local Businesses and Sponsors
Ark Blinds & Curtains Ltd
Balcombe Fete
Bright Ideas For Tennis
Crawley Carpet Warehouse
Crest Kitchens
Gatwick Community Trust
Homebase, Crawley
Horley Electrical
John Bristow & Thomas Mason Trust
Lawn Tennis Association
Mitchells Building Centre
RDO Kitchens & Appliances
Reigate & Banstead District Sports Council
RG Networks Ltd
Sport England
Surrey County Council
Topps Tiles, Crawley
Towers Watson
Vista Landscapes
Waitrose, Horley